We use the knowledge gained from our research to address unmet oro-dental and craniofacial clinical needs. From device manufacturing to testing to clinical application, we have "bench to bedside" capability all in one centre. Our advancements will be cost-effective and scalable, ensuring clinical translation via our network of clinicians and collaborations with public and private sector health delivery services, as well as industry.
Research laboratory
The UQ Oral Health Centre research facility is centrally located on level 6, with direct connections to the clinical specialist suite and the advanced diagnostic imaging clinic.
The research space, which is almost 1000 m² in size, includes a research meeting room, 32 carrels for higher degree research students and visiting academics, 6 shared offices for postdocs, as well as the main laboratory which is rated for PC2 work. This main laboratory has 60 workstations.
There are six specialised laboratories which come off the main laboratory, supporting work in cell culture, 3D printing and molecular biology, advanced imaging (including confocal scanning laser microscopy, fluorescence microscopy, and scanning electron microscopy), lasers and photonics, dental material testing, and microbiology.
There are also separate rooms for cryostorage, glassware reprocessing, and steam sterilisation. The laboratory is equipped with a wide range of advanced equipment, including facilities for hard tissue processing and 3D printing.
The COR3 Bio Fabrication facility has been awarded ISO 9001:2015 certification, ensuring our researchers receive consistent and high-quality services through our ISO 9001 Quality Management System. To be ISO 9001 compliant, we have been assessed by SAI Global against internationally recognised standards showing our commitment to quality and assurance. By achieving ISO 9001 certification, our academic and industry researchers are assured that our processes are consistent and with a focus on continuous improvement.
Contact the Laboratory Manager by email.

Clinical facilities
Our facility includes more than 150 dental chairs across 11 clinics, as well as two general anaesthetic theatres.
The Centre's facilities were designed with research and teaching in mind, with the creation of dedicated spaces for integrated clinical activity, for example between paediatric dentistry and orthodontics (clinic 3.4 A and B), and between oral medicine and DMF radiology (clinic 6.3 Diagnostic Suite).
There are also facilities for patients with special needs, patients requiring ambulance transport, or needing to access bariatric chairs or intravenous sedation (Clinic 6.2).
Clinic 6.1 is the Specialist suite, serving as the multi-disciplinary home for special needs dentistry, periodontics, endodontics and prosthodontics, and providing optimal interdisciplinary interactions.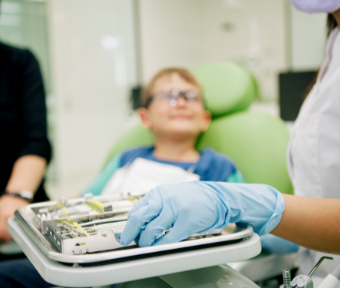 Preclinical Laboratory
A key part of the teaching at the Oral Health Centre is simulated learning and the students' education is aided by two preclinical teaching facilities with a combined seating capacity of 161. The simulation facilities are designed to mimic patient care and provide students with the knowledge and skills across the various disciplines, to enable them to practice treatments and tooth preparation techniques prior to treating patients during clinical placement.  
Students commence their learning journey in the preclinic laboratory from the start of their first year, and from their third year of the program they continue to link clinical placement with the simulation space.  It is in this space that they develop the fine motor skills, and hand-foot and eye coordination, and they establish competency in their work before performing the treatments in the clinic.  Practical training in this space extends across Restorative Dentistry, Orthodontics, Endodontics, Prosthodontics, Oral Surgery and Paediatric Dentistry. Some examples of the wide variety of simulated activities students perform to ensure competency are administering local anaesthetic, suturing, denture design, crown preparation and temporary crown fabrication, root canal treatments, and extractions.
Each workstation is equipped with:
A manikin head with moveable jaw
Dental suction
Handpieces
Water 
The space also includes surgical microscopes, intra-oral x-rays, intraoral scanning and CAD-CAM equipment, and a plaster lab. The teaching activities within the pre-clinic space are supported by an extensive dental technical lab that allows technical staff to prepare teaching activities with the assistance of a variety of equipment including 3D printers.