UQ COR3 Regenerative Dentistry Symposium + When Polymer Science and 3D Printing meet Dentistry
Professor Saso Ivanovski and Dr Pingping Han from UQ's School of Dentistry aim to facilitate future collaborations between dentistry and polymer science.
The Symposium will cover topics on Polymer Science, 3D Printing, and Regenerative Dentistry with a diverse range of keynote speakers.  
The Australia-Japan Foundation has generously supported this symposium. 
When: Friday 2 June 2023 (8am to 5pm)
Where: The Herston Oral Health Centre Auditorium.
Registration
To receive information and updates, please register your interest here.
(Registration is free for students and academics)
Invited speakers
Prof Yusuke Yamauchi Australian Institute for Bioengineering and Nanotechnology, UQ
Prof Chunxia Zhao The University of Adelaide
Prof Andrew Whittaker Australian Institute for Bioengineering and Nanotechnology, UQ
A/Prof Hang Ta Griffith University
Dr Jie Tang Australian Institute for Bioengineering and Nanotechnology, UQ
A/Prof Brooke Farrugia The University of Melbourne
A/Prof Lining Ju The University of Sydney
Prof Simon Cool The University of Queensland
Dr Chang Lei Australian Institute for Bioengineering and Nanotechnology, UQ
Caitlin Alsop Guest Speaker - Consumer Advocate
Distinguished Prof Yin Xiao Griffith University
Prof Alistair J Sloan The University of Melbourne
Distinguished Prof Dietmar W Hutmacher Queensland University of Technology
A/Prof Jess Frith Monash University
Dr Cedryck Vaquette The University of Queensland
A/Prof Martin Batstone Herston Biofabrication Institute, Queensland Health
Dr Jingwei Hou The University of Queensland
A/Prof Khoon Lim University of Sydney
Dr Andrew Liaw Institute of Dental Implants & Periodontics, New Zealand
Dr Srinivas Ramachandra Gulf Medical University, United Arab Emirates
Dr Nimal Raveendran The University of Queensland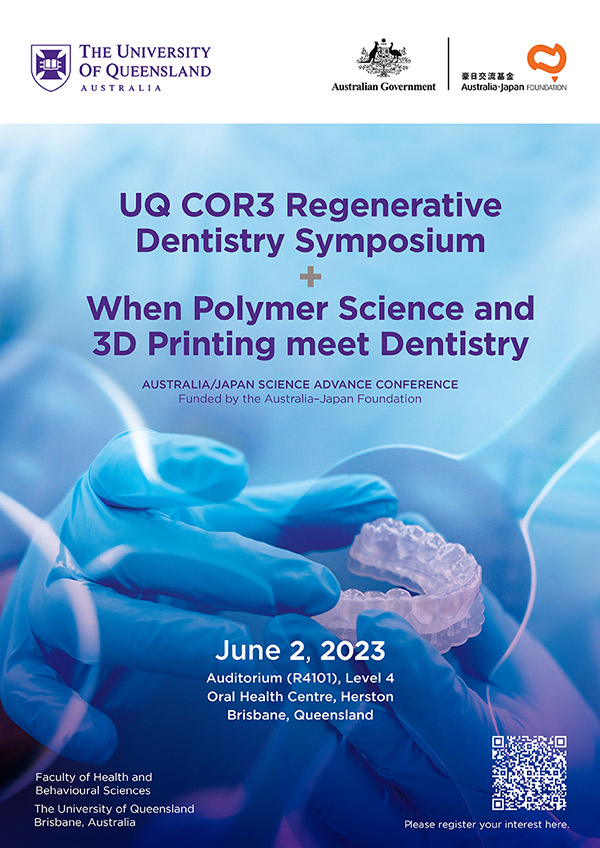 UQ COR3 Regenerative Dentistry Symposium + When Polymer Science and 3D Printing meet Dentistry
Fri 2 Jun 2023

8:00am

–

5:30pm