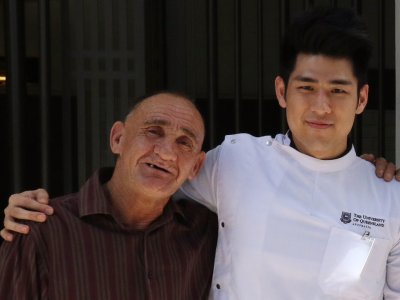 Unemployed 60-year-old Geoff Green's daily struggle to crack a smile is coming to an end.
Currently staying at Ozcare's South Brisbane Homeless Men's Hostel, Mr Green recently underwent his first dental check-up in six years thanks to The University of Queensland School of Dentistry.
"I have always been self-conscious about my teeth since I lost them," Mr Green said.
"Everywhere I go it's a huge problem for me, because it makes me feel bad about my appearance and makes it hard to move forward with life.
"I haven't wanted to apply for jobs because I didn't want to go to the interview and not be able to smile, and it's also made me uncomfortable in social situations."
Along with 12 others, Mr Green has benefited from a partnership between UQ and Ozcare which provides free dental care to men at the South Brisbane hostel.
Affectionately known as 'Pop', Mr Green admitted that a lack of money had deterred him from remedying his problems earlier.
But thanks to free care provided by UQ's high-achieving dental students, he now has a particularly special social event circled on his calendar.
"My youngest daughter is getting married in November and I'm going to be really proud to walk her down the aisle with a new smile," he said.
"Once I get my new dentures I'll also be looking to get back into concreting.
"Ozcare and UQ have been so good to me and I've told all the boys to come in and get looked at.
"I'd like to thank the students for the care they've given me and I think it's great they can learn at the same time as helping people out."
UQ Head of Dentistry Professor Pauline Ford has spent much of her professional life researching and enhancing dental care for the disadvantaged.
She said the partnership was an opportunity for dental students to drastically alter the quality of life for those in need.
"When people think of The University of Queensland, they think of this big institution, but really it's these individual human stories that provide the worth of our teachings," Professor Ford said.
"I'm really pleased to say that our student dentists are held to the highest expectations of professionalism, but underneath it all they still have hearts and want to help."
 
---
Media: Ms Stacey Vogel, UQ School of Dentistry, s.vogel@uq.edu.au , +617 3365 8074; UQ Senior Media Officer Robert Burgin, +617 3346 3035, +61 448 410 364, r.burgin@uq.edu.au.