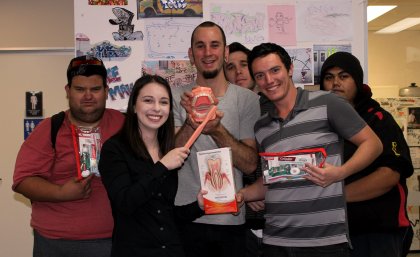 Think of all the barriers the average person confronts before seeing a dentist – now imagine contemplating and organising dental care if you were homeless.
That was a key motivation for University of Queensland School of Dentistry research assistant and oral health therapist Nicole Cockburn, organiser of Dental Rescue Week at Brisbane Youth Services.
"We'll be running a free dental clinic in Fortitude Valley from October 3-7," Ms Cockburn said.
"Previously homeless services haven't had the ability to refer people for dental care, and there are a number of factors that could commonly prevent the homeless seeing a dentist.
"Dental health may not be priority for them at that time, maybe they don't feel they will be able to see a dentist, or they may fear being misunderstood.
"We're hoping this pilot program will show the value of the initiative and it can become something that takes place three or four times a year."
Services on offer at the Dental Rescue Week will include check-ups, cleans, basic fillings, referrals for more extensive dental care and education to prevent poor dental health.
Although only 22, Ms Cockburn has taken a leading role in the project and has organised equipment and volunteers, as well as securing funding.
She said her community-mindedness was founded in her upbringing and nurtured at her former high school San Sisto College at Carina.
"I've definitely had an interest in social welfare for a long time and I think my school really emphasised that message of helping others," Ms Cockburn said.
"I've volunteered for a number of initiatives in the past to assist the homeless, but I would like to make a bigger difference with an ongoing program that provides some stability."
Ms Cockburn's supervisor at UQ, Head of Dentistry Professor Pauline Ford, is one of her inspirations for making a difference to the community through dentistry.
Professor Ford became the first female appointed to a head of school dentistry role in Australia or New Zealand in May 2016.
"A lot of her work is focused on the needs of disadvantaged groups and those with special needs," Ms Cockburn said.
"Aside from the homeless, her research includes the oral health of people with multiple sclerosis, mental illness and aged care residents and how their needs could be better met.
"Working with her has opened my eyes to the possibilities of my own career."
---
Media: Ms Nicole Cockburn +61 423 657 240, n.cockburn@uq.edu.au; UQ Senior Media Officer Robert Burgin, +617 3346 3035, +61 448 410 364, r.burgin@uq.edu.au.