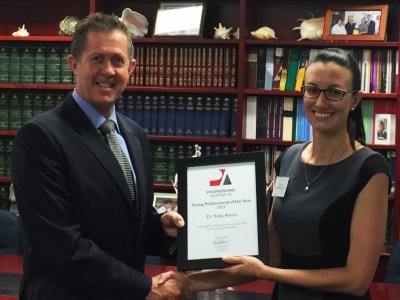 A University of Queensland graduate who developed an interactive program to help primary school children look after their teeth has been named Young Professional of the Year.
School of Dentistry alumnus Dr Kate Amos was bestowed the award from Professions Australia – an organisation that represents more than 300,000 people across the nation.
President of Professions Australia Michael Catchpole noted Dr Amos had previously received first-class honours from UQ and five Dean's recommendations for high achievement.
"At the heart of this award is the young professional's service to the community," Mr Catchpole said.
"The drive of Kate Amos to make a difference to the teeth of primary school children on a large scale is above and beyond her day-to-day job as a young dentist."
Now a dental practitioner in Coffs Harbour, Dr Amos developed the interactive 'Smart Smiles' oral health promotion resource for New South Wales primary schools.
In 2012 she co-authored a graduate handbook to assist new dental colleagues.
Aged 29, Dr Amos is already a Councillor of the Australian Dental Association (NSW branch).
"It's an absolute honour to be named the 2015 Young Professional of the Year and recognised at the highest level by Professionals Australia," Dr Amos said.
"Gaining an award was the furthest thing from my mind when I developed the oral health resource for primary schools and co-authored the handbook for young dentists.
"Most oral diseases are preventable and carry a huge community burden, as well as the personal impact on those affected.
"I'm hoping this award can shine more light on dental health and enable me to communicate some key messages far and wide about the importance of oral health."
Dr Amos said she encouraged other young professionals to share their achievements and ideas for the future with the community and across professions.
---
Media: Liz Lang, Professions Australia, ceo@professions.com.au;