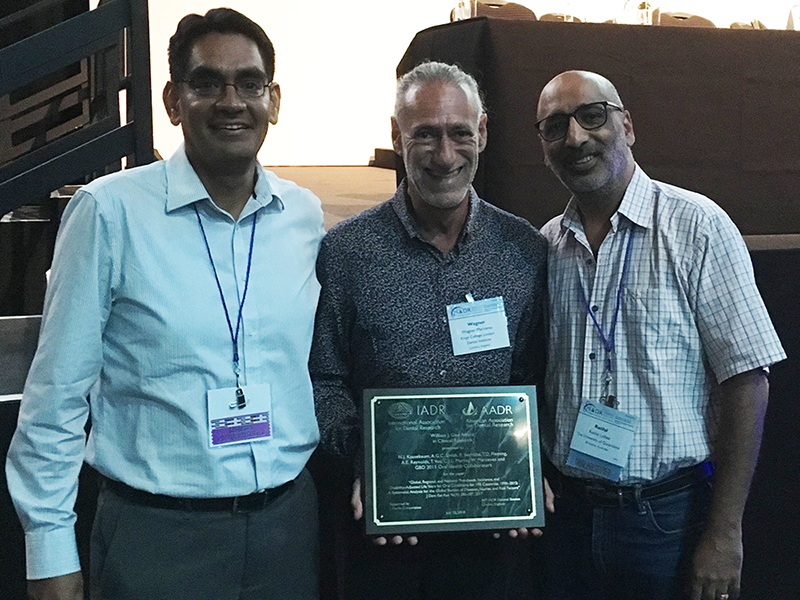 The UQ School of Dentistry made a pronounced impact at the 2018 International Association for Dental Research (IADR) General Session in London recently.
The School boasted a significant presence, with 13 oral presentations, eight posters and one competitor in the Three Minute Thesis (3MT®) competition.
Congratulations to Dr Arosha Weerakoon on being awarded runner-up in the 3MT® competition.
There were 11 competitors from 10 countries in the 3MT® competition, including one other Australian entrant from the University of Melbourne who placed third.

Dr Weerakoon also presented a poster at the IADR, entitled Dentin Collagen Architecture Related to Site, Depth, and Ageing: "To test the null hypothesis that dentin collagen architecture does not change with site, depth or ageing".
The IADR/AADR William J. Gies Award for Clinical Research* for the best published paper in the Journal of Dental Research was awarded to 'Global, Regional, and National Prevalence, Incidence, and Disability-Adjusted Life Years for Oral Conditions for 195 Countries, 1990–2015: A Systematic Analysis for the Global Burden of Diseases, Injuries, and Risk Factors'. doi: 10.1177/00220345176935.
Congratulations to UQ School of Dentistry co-author of the paper, Associate Professor Ratilal Lalloo, pictured above with fellow co-authors from Kings College London, Dr Eduardo Bernabé (left) and Professor Wagner Marcenes (centre); Professor Wagner is the oral health lead investigator for the Global Burden of Disease study.
Head of the UQ School of Dentistry Professor Pauline Ford said the outstanding accomplishments of UQ researchers at the IADR is testament to the high calibre of work being undertaken within the School.
"We are very proud of the success and the recognition the School has received internationally," Professor Ford said.
"The level of excellence being attained contributes to our growing status as a global leader in dental education and research."
---
*The William J. Gies Award is given to the best paper published in the Journal of Dental Research (JDR) during the preceding year. Nominations are made by individuals, by the Gies Award Committee, and by the Editor of the JDR.