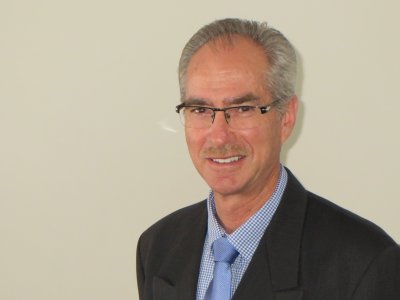 In a major win for rural health, a former president of the Australian Dental Association (Queensland Branch) has been appointed to Goondir Health Clinic at Dalby.
Dr Ralph Kelsey will bring his passion for community service to the role of Dental Services Team Leader at The University of Queensland School of Dentistry satellite clinic.
Acting Head of School, Associate Professor Pauline Ford, described his arrival as a coup for both the region and the university.
"We're extremely fortunate to benefit from having someone of Dr Kelsey's calibre and standing at the Dalby clinic," Dr Ford said.
"Ralph has spoken enthusiastically about the opportunity to contribute to the knowledge and experience of future dental practitioners.
"His experience in both private practice and hospital clinics provides an excellent basis for others to learn from and serve Dalby and surrounding areas."
A graduate of UQ in 1983, Dr Kelsey has enjoyed a diverse career, including three years working with the Ministry of Defence and Aviation in Saudi Arabia.
Most recently he has been based in Central Queensland, and has previously worked in regional hospital dental clinics in Nambour and Ipswich.
As well as being immediate past president of the Australian Dental Association's state branch, he has been president of the Australian Society of Endodontology, and a Fellow of the International College of Dentists.
UQ School of Dentistry staff member Professor Laurence Walsh has enjoyed a long professional relationship with Dr Kelsey and was also excited at his arrival.
"He has a strong sense of compassion for people in country areas," Professor Walsh said.
"Furthermore, he genuinely enjoys opportunities where he can support and mentor students, part of the reason he has such an excellent reputation in the profession.
"Throughout his career he has spearheaded a number of campaigns and I envisage him advocating an increased focus on health in the Darling Downs region."
The partnership between UQ and Goondir Health Services provides comprehensive dental services to the community from a five-chair dental clinic.
Indigenous health is a particular focus for the clinic, with Dalby having a significant Indigenous population.
Fifth-year Bachelor of Dental Science (Honours) students have an option to undertake clinical placement at Dalby, giving them invaluable experience in the final months before graduation.
---
Media: Associate Professor Pauline Ford, p.ford1@uq.edu.au , +617 3365 8085; UQ Communications Robert Burgin +617 3346 3035, +61 0448 410 364, r.burgin@uq.edu.au